Semi-submersible pumps with magnetic couplings
Advantages
GNVC-P vertical semi-submersible pumps are developed and manufactured according to individual parameters of the Customer and in compliance with normative documents.
Time of manufacture: 90 days.
Warranty period: 24 months.
Chemical pumps are capable of pumping liquids with viscosity up to 35 cSt, and density up to 2,000 kg/m3.
Performance specifications
Purpose: transit of corrosive, toxic, explosive and flammable fluids;
Pump rate ranges: 0,15 to 220 m3/h;
Head ranges: 5 to 250 m;
Seal type: a magnetic coupling according to API 685 with a sealing sleeve made of Hastelloy alloy (standard version) ensures 100% tightness;
Climatic version: for moderate and for moderate and cold climate;
Temperature of the pumped fluid: up to plus 250°С;
Shaft speed: 2,900 rpm;
Structural design: type VS4 according to API 610, vertical type, fixed installation on the container neck on the base plate;
Submergence: 1 to 6 metres, with a length increment of 10 cm for the choice of a specific immersed part length of the pump.
Examples of Villina semi-submersible pumps
Option 1
Submergence, mm: 2,000
Shaft seal: magnetic coupling
Body material: A 516-55; A 516-60; A 516-65; A 561 Gr70
Shaft material: 40Х13
Medium: water with petroleum product contaminants
Temperature, °С 50
Viscosity, cPs: 1
Capacity, m3/hour: 8
Density: 700-1,000
Head, m: 20
Electric motor: AIM 80V2
Power, kW: 2,2
Shaft speed, rpm: 3000
Option 2
Submergence, mm: 3,200
Shaft seal: magnetic coupling
Body material: A 516-55; A 516-60; A 516-65; A 561 Gr70
Shaft material: 40Х13
Medium: diesel fuel, aircraft fuel, oil, petrol, natural gas liquid, light vacuum gas oil
Temperature, °С: 80
Viscosity, cPs: 23
Capacity, m3/hour: 12,5
Density: 755-860
Head, m: 50
Electric motor: BA 160S2
Power, kW: 15
Shaft speed, rpm: 3000
Option 3
Submergence, mm: 4,500
Shaft seal: magnetic coupling
Body material: A 516-55; A 516-60; A 516-65; A 561 Gr70
Shaft material: 40Х13
Medium: condensate
Temperature, °С: 5-40
Viscosity, cPs: 35
Capacity, m3/hour: 50
Density: 915
Head, m: 50
Electric motor: BA180М2
Power, kW: 30
Vertical semi-submersible pumps are designed to solve the problem of pumping liquid out of a tank when a part of the pump is within the pumped medium. Pump units are used with the engine speed up to 3,000 rpm. Therefore, the temperature conditions for semi-submersible pumping units are up to 250 degrees.
Centrifugal semi-submersible pumps are widely used both in petroleum refining (petroleum and drainage pumps) and the chemical industry, and in the food industry. They are used for transit of various liquids and mixtures including explosive and flammable fluids (oil and gas products, etc.).
Attention! The pump is not designed for pumping crystallising and polymerizing, boiling liquids.
Design

Semi-submersible pumps are in between surface and submersible units and combine all their advantages, nevertheless, a semi-submersible pump is not designed to carry out specialized tasks for which these two types of units were created.
Semi-submersible pumps consist of an electric motor, a working section and immersed sections. The engine is placed on a base plate which is in turn attached to the tank neck. The transmission of torque from the motor shaft to the pump rotor in canned pumps is transmitted using a magnetic coupling. Centrifugal wheels serve as a working tool.
Pumps are equipped with high-strength ceramic bearings. At the same time, these bearings are relatively fragile, so the pumps are recommended for pumping clean media. The bearings are lubricated by the pumped medium and do not require an additional lubrication and cooling system, as well as temperature control. The magnetic coupling and the sealing sleeve of Villina semi-submersible pumps are cooled by the pumped medium. The sections are dry. The fluid enters the pipeline through the discharge nozzle.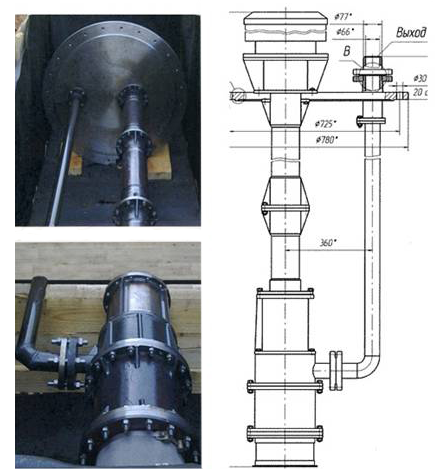 Submergence
Unlike that of other manufacturers, the submergence of the Villina pumps can be set to any value from 1 to 6 meters. For example: 1.1, or 1.7, or 4.38 without any increment. It is determined from the bottom of the pump to the plane of the connecting plate. The maximum value is 6 m.
Protection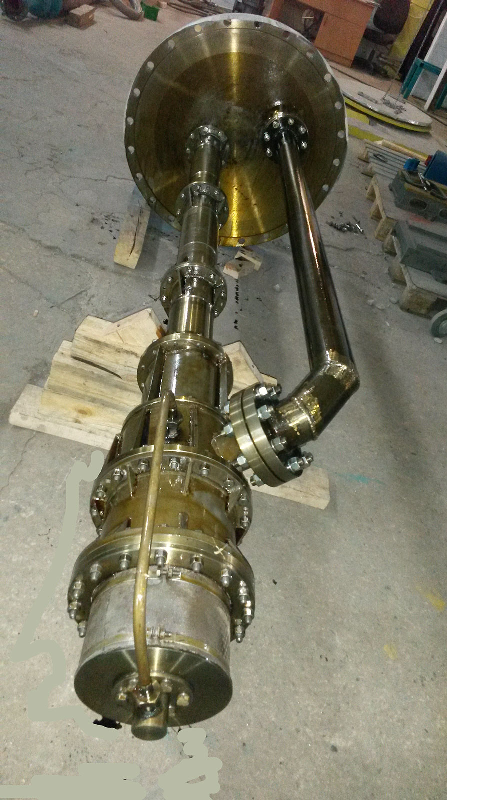 There is no need of additional measures to prevent cavitation and dry running, as semi-submersible pumping units are located in the tank and work under loading. But it is necessary to control the liquid level in and its temperature.
Methanol, natural gas liquid, liquefied gases are pumped out by semi-submersible pumps with explosion-proof engines.
Semi-submersible vertical oil pumps are widely used at petroleum refineries for pumping out drain fluid. A stainless steel strainer on the suction pipe allows for pumping media with impurities up to 0.2% and 0.2 mm. The standard version of the strainer is designed for use with non-magnetic inclusions up to 0.2 mm. The strainer can be made in a non-standard version considering the need to increase the size of non-magnetic particles and their concentration.
Documentation
Villina pumping units are licensed by the Customs union, which allows their use in explosive and fire hazardous industries. All our pumps have passed 100% final check which is carried out at the factory test facility and is provided in the form of a performance value for water. This ensures reliability and compliance with the specified parameters.