A set of counter flanges (SCF) with gaskets and bolting
During the construction of an industrial facility, much attention is paid to the strength of the service pipelines fasteners. It is also necessary to provide reliable connection of all units of industrial equipment with the pipelines. In this case, it is not always possible The use of a permanent welded joint is not always possible, therefore, there are various types of weld-free tight joints.
Flange joint components
At present, one of the most effective connections used in industrial facilities is a flange joint. This is an airtight connection that provides high structural integrity, consists of two flanges, fasteners (studs or bolts, washers, nuts) and gaskets.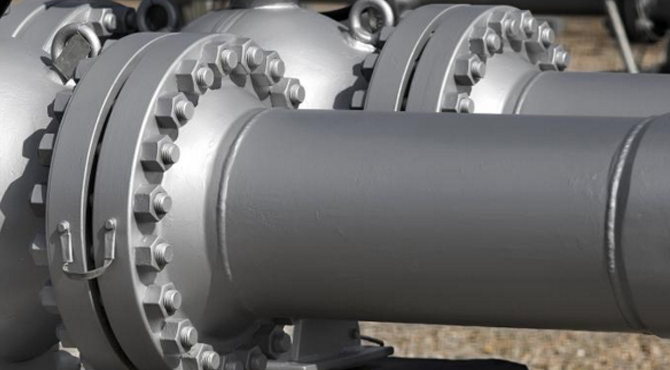 An important matter in choosing a set of flanges is tightness. The gasket material must have good elasticity, strength, resistance to the operating temperature conditions and to the media with which direct contact is expected.
For flange joints, Villina company uses the following types of gaskets which are placed between the end faces of the flanges:
reinforced paronite gaskets (GR) in accordance with GOST 481-80, acid-resistant gaskets (GA), oil-and-petrol resistant gaskets (GOB), general purpose gaskets (GGPA, GGPB), electrolyzer gaskets (GE);
spiral wound gaskets (SWG) in accordance with GOST 52376-2005 and OST 26.260.454-99;
PTFE fluoroplastic gaskets.
Fasteners (studs or bolts, washers and nuts) used with flange joints of vessels and pumping equipment supplied by Villina, are compliant with GOST standards and have zinc coatings which increase service life.
Flange joint selection
When selecting a flange joint you should first choose the design of the flange:
a steel slip-on flange in accordance with GOST 12820-80 is slipped on the pipe and welded with two welds around the circumference of the pipe;
a steel butt-welding flange in accordance to GOST 12821-80 is mounted on one attachment weld, while the pipe end abuts the flange neck;
a GOST 12822-80 steel rotary flange (a ring is welded to the pipe, the flange remains free to rotate relative to the pipe for easy fitting of bolt holes with bolt holes of the counter flange when mounted in hard-to-reach places).
Villina also offers complete sets of equipment with flanges manufactured according to DIN standards used in Europe and Germany and American ANSI standards.
A set of flanges is selected according to the following specifications
nominal bore Dnom, mm;
pressure rating Рnom, kgf/cm2;
type of surface for the gasket (version 1 - 9);
material combination.
Supply as complete sets of flanges for Villina pump and vessel equipment
The suction and delivery pipes, the drain nozzle in the pump designs, as well as the nozzle group in Villina equipment for vessels and heat exchangers are made for flange joint in accordance with GOST 12820-80 or GOST 12821-80.
As assigned by the Customer, flanges in accordance with DIN and ANSI standards may be used in pumps, tanks and heat exchangers.
All pump units are equipped with appropriate counter flanges, gaskets and bolting.
In addition to the set of counter flanges, the spare parts kit for Villina vessels and heat exchangers additionally includes a double stock of gaskets and bolting (200%).
Contact Villina company and you will receive a complete set of equipment ready for installation, taking into account all the technical requirements of your company and operating conditions.